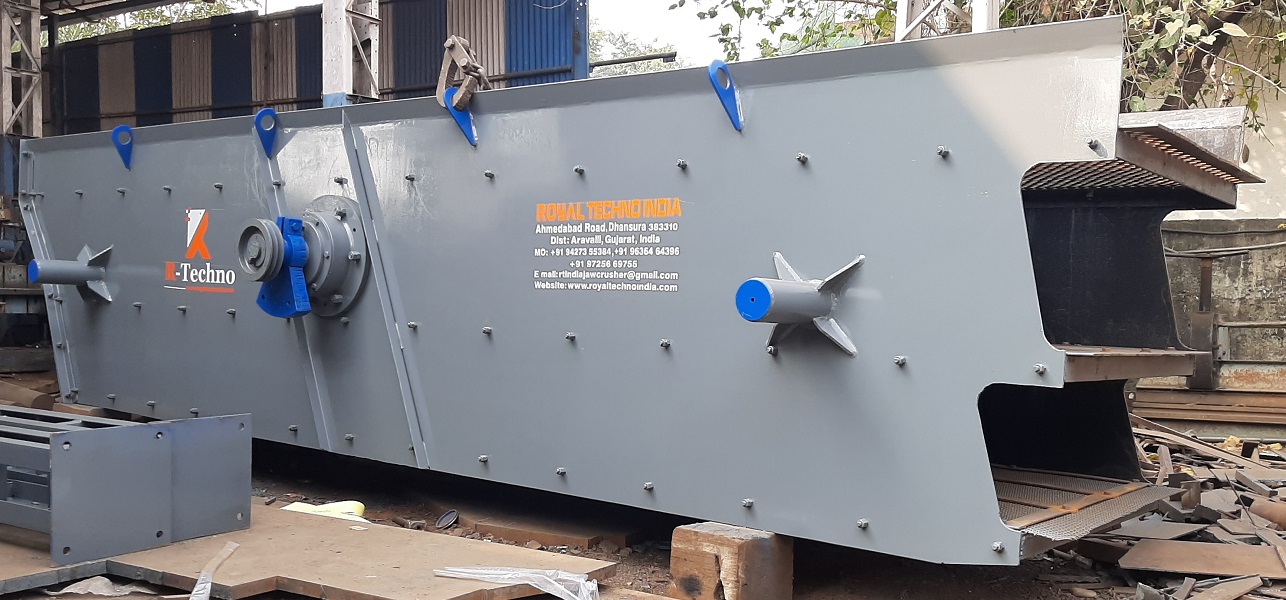 Vibrating Screen
Leading Vibrating Screen Manufacturer in Gujarat, India Offers a Range of Vibrating Screens with Highest Performance
We are one of the biggest vibrating screen manufacturers in Gujarat. We work 24/7 for our International and national customers. We provide superior quality vibrating screens in Dhansura, Gujarat, India.
For the crusher plant. Our product is high in quality and at an affordable price. We at R-Techno design minimum weld plates which increase durability and reliability. Robust fastening is done between mesh frame and side frame. Optimum vibration with less noise. Quick and easy replacement of the spare parts. Circle-throw is often adjusted by adding or removing counterweights. Quick and easy replacement of spare parts, which minimizes shutdown time.
Excellent quality product separation. Easily replaceable feeding and discharge suit. It is available in perforated sheets, wire mesh screen, as a mesh material.
Over vibration or unload vibration indicating system additionally available. Our vibrating screening equipment has a lot of special features as it has weld-free side plates. Universal joint and housing assembly for long-life vibration. It has a wire mesh/perforated screen. Fastened or Riveted frame and side plate. It has a heavy Duty/Rubber bellow system. It has almost everything which makes it unique and different.
We have another type of screening equipment known as Rotary Screen or Trommels.
Rotary trommels also are referred to as a rotary screen, and want to separate materials, mainly within the mineral and solid waste. The rotary trommels designed by R-Techno are specially designed safety measures that include sectionized cylinders covered with inspection doors, optional inching drives, and a cylinder jacking and brake system for maintenance periods.
For accurate size separation of difficult-screen materials in municipal solid waste and resource recovery, and separate solid waste resource recovery, and separate wash ores rock and other fine materials. We manufacture the best rotary trommels in India, offering the flexibility to meet the necessity of diverse screening applications.
Contact R-Techno team today to get Vibrating Screens in Dhansura, Gujarat, India.
| MODEL | SIZE (mm) | POWER* (HP) | SCREENING CAPACITY* (TPH) |
| --- | --- | --- | --- |
| RTI-63VS | 1800 X 900 | 3 | 05-02 |
| RTI-83VS | 2400 x 900 | 3 | 08-04 |
| RTI-103VS | 3000 x 900 | 3 | 10-05 |
| RTI-104VS | 3000 X 1200 | 5 | 15 - 25 |
| RTI-124VS | 3600 X 1200 | 7.5 | 30 - 40 |
| RTI-154VS | 4500 X 1200 | 7.5 – 12.5 | 40 - 50 |
| RTI-165VS | 4800 X 1500 | 12.5 - 15 | 55 - 65 |
| RTI-185VS | 5400 X 1500 | 20 | 70 - 90 |
| RTI-186VS | 5400 X 1800 | 20 - 25 | 80 - 110 |
| RTI-205VS | 6000 X 1500 | 25 - 30 | 80 - 110 |
| RTI-206VS | 6000 X 1800 | 30 | 120 - 150 |
| RTI-186HFVS | 5400 X 1800 | 30 | 150 - 200 |
| RTI-206HFVS | 6000 X 1800 | 40 | 200 -250 |