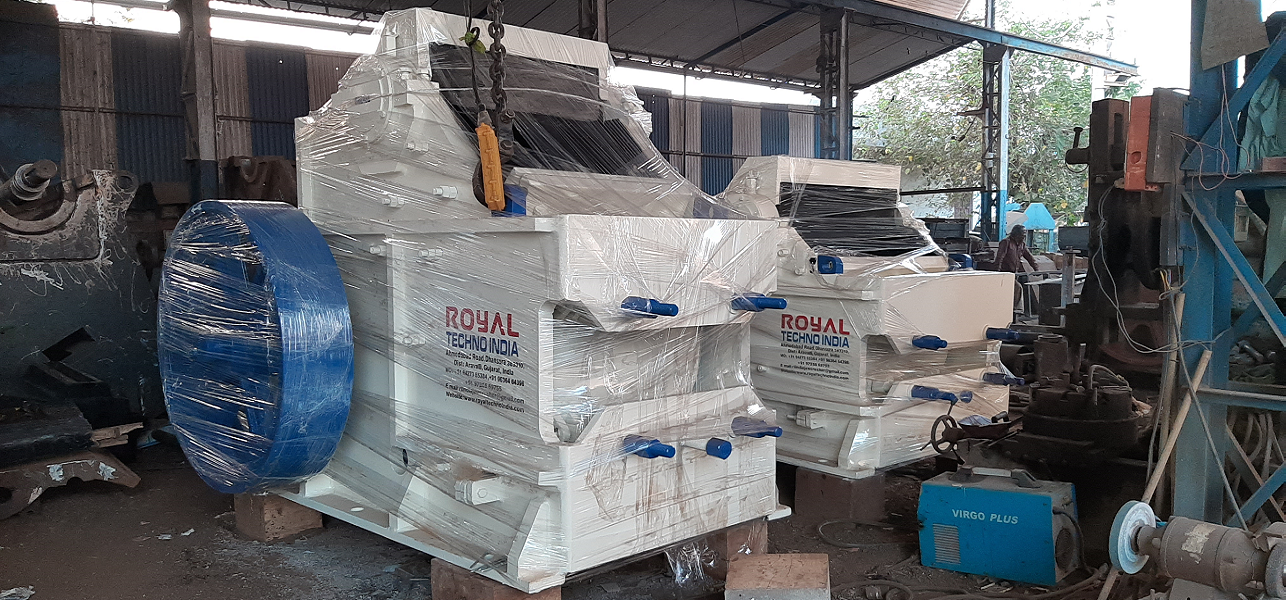 Double Toggle Oil Type Jaw Crusher
Oil type jaw crushers are configured for primary & secondary crushing of even hardest rock at hardest speed with minimum power. The crusher is designed on principal of crushing without rubbing, with high impact pressure. A closed chamber prevents dust thus our Jaw Crushers are considerably higher than that of conventional crushers. The company crushers are designed for long life service with minimum maintenance with high quality promised for hard, tough, abrasive material and overload high capacity.
Assembly has main body of mild steel, Pitman is always in compression condition, having unique design filled with metal, one is always in contact with crank shaft and other is in contact with Pin. Jaw works through front & rear toggle which are in contact with pitman & pin, thus the compression force diverts in three directions. Care should be taken of oil viscosity whether is not viscous then have to refill oil chamber. These crushers are high production capacity with low power consumption compare to grease type jaw crushers.
| MODEL | SIZE (mm) | POWER* (HP) | CAPACITY*(TPH) | MAX. FEED SIZE (mm) |
| --- | --- | --- | --- | --- |
| RTI-169OJC | 400 x 225 mm | 15-Oct | 12-Jul | 150 - 200 |
| RTI-2012OJC | 500 x 300 mm | 25 - 30 | 15 - 20 | 200 - 250 |
| RTI-2412OJC | 600 x 300 mm | 30 | 20 - 25 | 200 - 250 |
| RTI-2414OJC | 600 x 350 mm | 30 - 40 | 28 - 32 | 250 - 300 |
| RTI-309OJC | 750 x 225 mm | 40 | 25 - 30 | 175 - 200 |
| RTI-3015OJC | 750 x 375 mm | 40 - 50 | 30 - 40 | 300 - 325 |
| RTI-3020OJC | 750 x 500 mm | 50 | 50 - 60 | 400 - 450 |
| RTI-3024OJC | 750 x 600 mm | 50 - 60 | 70 - 80 | 500 - 550 |
| RTI-368OJC | 900 x 200 mm | 40 - 50 | 30 - 35 | 125 - 175 |
| RTI-428OJC | 1050 x 200 mm | 50 - 60 | 40 - 45 | 125 - 175 |
| RTI-488OJC | 1200 x 200 mm | 60 - 75 | 50 - 60 | 125 - 175 |
| RTI-3624OJC | 900 x 600 mm | 75 - 100 | 80 - 100 | 500 - 550 |
| RTI-3632OJC | 900 x 800 mm | 100 - 120 | 120 - 140 | 700 - 750 |
| RTI-4230OJC | 1050 x 750 mm | 120 - 150 | 180 - 200 | 650 - 700 |
| RTI-4836OJC | 1200 x 900 mm | 175 - 215 | 220 - 250 | 800 - 850 |